You want to vote for us on March 15? Great! Here's a step by step guide on how to do it!
1. Check you live in Noorderzijlvest
Student & Water takes part in the elections for water board Noorderzijlvest. That means you can vote for us when you live in the north and west of the province of Groningen. The city of Groningen is divided between Noorderzijlvest and neighbouring water board Hunze & Aa's. You can see in the map below if you live in Noorderzijlvest (blue area):
The easiest way to check is your voting card ('stempas'). This is the blue card you've received. It will say for which water board you can vote.
2. Grab your ID or residence permit and voting card
To cast your ballot, you will need two things:
A valid form of identification

Dutch/EU nationals: ID card or passport:
Non-EU nationals: residence perm ('verblijfsdocument')

Your voting card ('stempas'). It looks like this: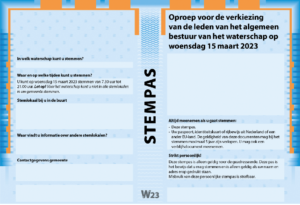 3. Go vote!
Head to your nearest polling station. If you live in Groningen city, it doesn't matter which polling station you visit as you can vote for both water boards in all stations.
There you hand over your voting card and ID. After some checks, you will receive your ID back and get handed a ballot paper.
On the ballot paper, look for list #9: Student & Water. Then vote for your favourite candidate with the red pencil by filling the hole next to them, fold your ballot paper back up and cast your ballot in the bin marked Waterschap Noorderzijlvest.
That's it! Thank you for supporting us and making your voice heard in the water board! If you encounter any problems, please reach out to us via studentenwater@gmail.com or via Instagram (@studentenwater).